1st Annual
Belmont Porchfest
September 8, 2018
(rain date Sept 9th)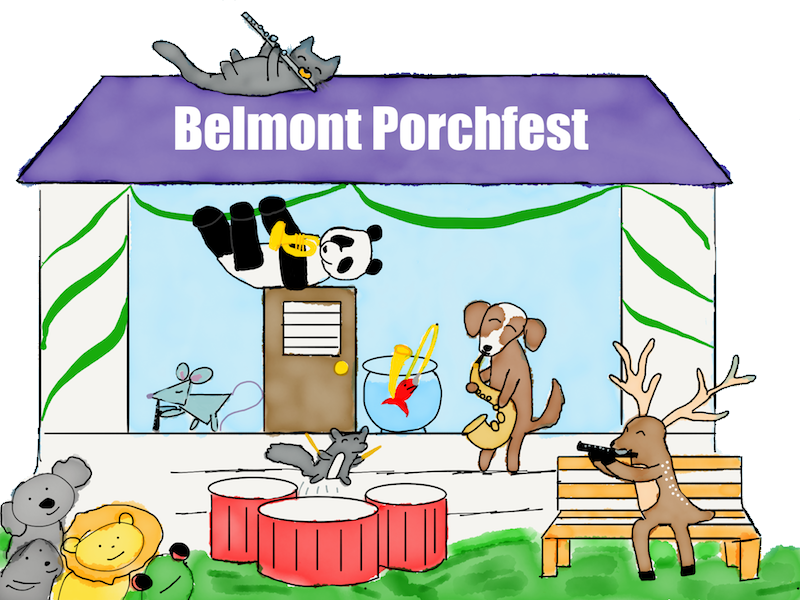 WINNING LOGO CREATED BY KIRA DAVIDSON! Thanks Kira, you rock! And thank you so much to everyone who participated. We had many fantastic visions of porchfest from which to choose!
Belmont Porchfest is a free, one day, community-wide celebration showcasing the talents of
friends and neighbors
(and maybe even you!) on porches and lawns throughout Belmont. This inaugural event will take place on Saturday, September 8, 2018, from 11AM - 7PM
(raindate September 9th, 2018.)
Performers of all manner will join with porch hosts and strolling spectators to celebrate music and arts and community!
To make the Belmont Porchfest exceptional, all we need are Belmontonians to be themselves and participate.
There are several ways to be a part of Porchfest:
Are you a homeowner with a cool porch or yard? Check out the "Porch Host" link
Do you have a talent you'd like to share? Checkout "Performers" link
Are you exploding with ideas AND energy? Be a part of our squad of volunteers. Whether you want to play a key role in the advanced planning or the "day of" logistics, we need you! Click on "Volunteers"
Want to check out the superstars behind the curtain? Click on Funders and Supporters. Better yet, join that noble group of troubadours by clicking on the Paypal Button over there ->
Need some more info? Drop us a line BelmontPorchfest@gmail.com
Come out and bring energy to the porches! Check out Schedules and Map (coming later this summer)
This program is supported in part by a grant from the Belmont Cultural Council,
a local agency which is supported by the Mass Cultural Council, A state agency.