FREE Music and Arts Event
Belmont Porchfest
Saturday September 10, 12-6pm
(rain date: Sunday Sep 11)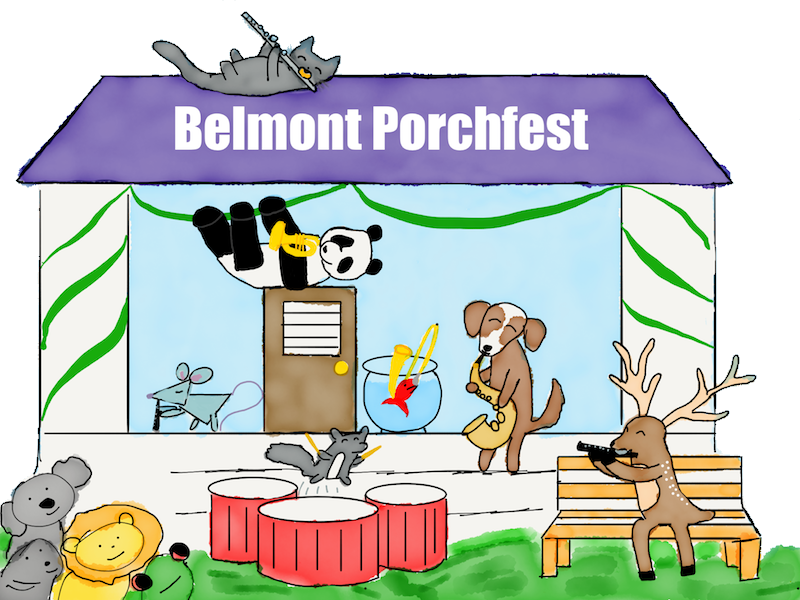 Belmont's Porchfest is a celebration of community through music and arts performed by your friends and neighbors in yards, on porches, and in a park, throughout Belmont. Bike to a friend's house to hear a Klezmer band or host a circus show on your front lawn.

OH, THE THINGS WE WILL DO IN 2022
We are excited to tell you about Belmont Porchfest's most ambitious year yet.
Building on last year's format of performances on porches and in yards from 11 am – 5 pm, we are adding 3 new features:
a Park Palooza of music and art culminating with a Grand Finale,
a virtual tip jar for Belmont performers, and
an abundance of Sponsor Appreciation Signs throughout town
THE PALOOZA:
The Palooza will feature all-ages community art projects and all-ages community performers, including students, a POMS Showcase, the BHS Marching Marauders, School of HONK and others.
Register to perform or host July 1st - July 31st, 2022
The Park Palooza will feature an all-ages community art project where YOU create a piece of the community art project while all-ages community bands, including students, a POMS Showcase, the BHS Marching Marauders, School of HONK, and possibly you (!), perform nearby.
We will culminate the Park Palooza with a Grand Finale where we can all come together to celebrate our varied and unique talents as a town and to reveal the art project so many of you will have helped to create.
Are you a potential sponsor? We may be planting more Sponsor Appreciation Signs in yards around Belmont this summer. Reach out if you want to grab a bit of our sunshine. We will share it with you!

There is a medley of fun Porchfest opportunities coming up. Don't miss out! Check them out here STUDENTS* | ADULTS

*Students receive community service hours for volunteering!
Although Porchfest is free, there are costs associated
with making it safe, fun and comfortable.
Please consider donating:


Questions? Read the FAQs, ask a friend, ask on our FB page, and, as a very last resort, drop a
♪

note to t BelmontPorchfest@gmail.com

This program is supported in part by a grant from the Belmont Cultural Council, a local agency which is supported by the Mass Cultural Council, a state agency.

Also by Anne Mahon, Protobi, and the UU
[[website by porchfest.info]]