FREE Music and Arts Event
Belmont Porchfest
Saturday September 10, 11-6pm
(rain date: Sunday Sep 11)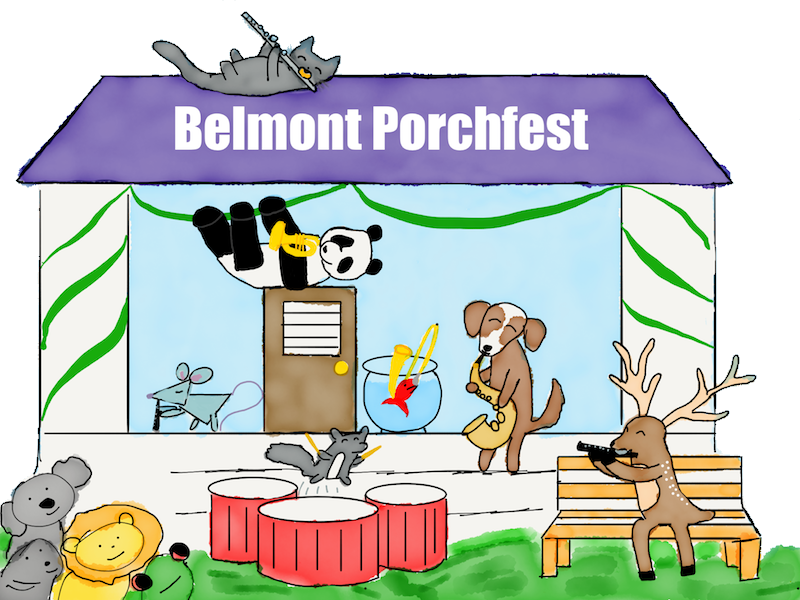 Belmont's Porchfest is a celebration of community through music and arts performed by your friends and neighbors in yards, on porches, and in a park, throughout Belmont. Bike to a friend's house to hear a Klezmer band or host a circus show on your front lawn.
Thank you for another fantastic year, Belmont!
Thank you for participating in Belmont Porchfest's Community Art Project. Together we made five vibrant mosaics celebrating our resilience.
You can see Mosaics #1,2,3, and 5 at the Belmont Public Library
Early next week, The UU will display Mosaic #4
http://belmontporchfest.betterworld.org/auctions/belmont-porchfest-community-art
Thank you to our Sponsors:
THE UNIVERSALIST UNITARIAN CHURCH
for making Belmont Porchfest Possible
Sara McCabe Communications
and to the cadre of fabulous volunteers who also made Belmont Porchfest possible:
Molly Aalyson (and Chris)
AND A HUGE THANK YOU TO JULIE CHOI FOR LEADING THE COMMUNITY ART PROJECT!
And to Kirk Israel for creating and managing the website
Although Porchfest is free, there are costs associated
with making it safe, fun and comfortable.
Please consider donating:


Questions? Read the FAQs, ask a friend, ask on our FB page, and, as a very last resort, drop a
♪

note to t BelmontPorchfest@gmail.com

This program is supported in part by a grant from the Belmont Cultural Council, a local agency which is supported by the Mass Cultural Council, a state agency.

Also by Anne Mahon, Protobi, and the UU
[[website by porchfest.info]]