FREE Music and Arts Event
Belmont Porchfest
Saturday September 9, 11-6pm
(rain date: Sunday Sep 10)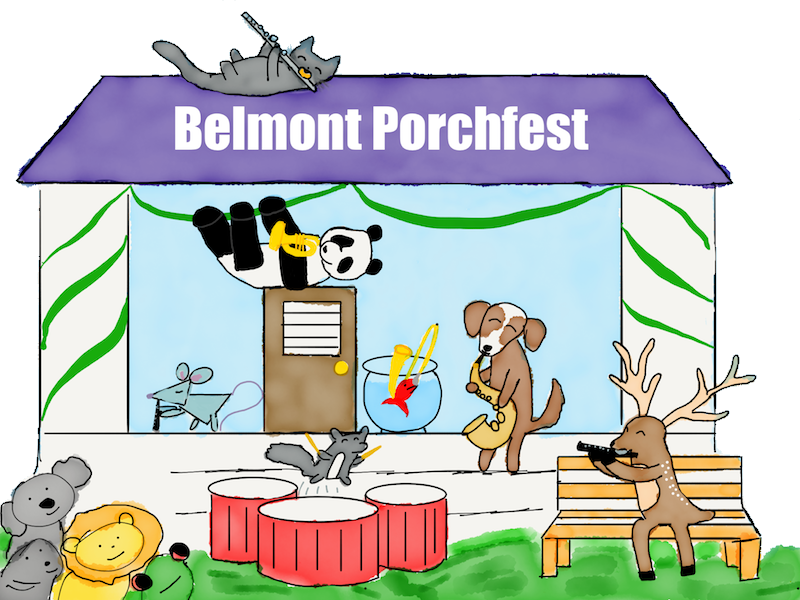 Belmont Porchfest is scheduled for September 9, 2023. Our website will be updated July 1, 2023
BELMONT PORCHFEST IS A PROUD PARTICIPANT OF THE MASS CULTURAL COUNCIL'S CARD TO CULTURE PROGRAM
Belmont Porchfest welcomes everyone to our free one-day music and art event.
Belmont's Porchfest is a celebration of community through music and arts performed by your friends and neighbors in yards, on porches, and in a park, throughout Belmont. Bike to a friend's house to hear a Klezmer band or host a circus show on your front lawn.
This year the performances included:
Jazz, Italian music, Turkish music, blues, rock, Latin acoustic, a cappella, folk, a reading by a local author, an exhibition by a visual artist, pop, brass, portraits by an anime artist, sea shanties, classic dad rock, Americana, a harpist, Cajun/Zydeco, the Marching Band, a HONK band, and a flutist playing Disney tunes.
Thank you for another fantastic year, Belmont!
81 performances
on 65 porches and at Town Green.
There were 420 total performers, 112 of whom were
students.
There were 42 volunteers, 20 of whom were students and 22 were
adults.
2646 people participated in Porchfest
Fun facts from our post-event survey:
94% of you feel increased connection to friends and neighbors whom you saw during Porchfest.
88% of you feel increased goodwill toward Belmont residents in general.
99% of you feel increased pride in Belmont.
97% of you feel sponsoring Belmont Porchfest reflects positively on our sponsors (contact us NOW if you want to sponsor us next year).
62% of you say you have increased confidence in your ability to create art.
74% of you have increased desire to create art.
(IF you participated in the Art Project, those numbers go up to 65% and 84%, respectively) to the future HONK dancer, just show up the first Sunday of the month or check here: Schoolofhonk.org
This year's NPS (Net Promoter Score) is 86 which is good but not good enough. If you didn't give us a 10, tell us why! Better yet, join our committee today to put your spin on Belmont Porchfest 2023
71 people completed our survey.
THANK YOU TO EVERYONE WHO MADE PORCHFEST HAPPEN!
THE UNIVERSALIST UNITARIAN CHURCH
for making Belmont Porchfest Possible
Sara McCabe Communications
and to the cadre of fabulous volunteers who also made Belmont Porchfest possible:
Molly Aalyson (and Chris)
AND A HUGE THANK YOU TO JULIE CHOI FOR LEADING THE COMMUNITY ART PROJECT!
And to Kirk Israel for creating and managing the website
Although Porchfest is free, there are costs associated
with making it safe, fun and comfortable.
Please consider donating:


Questions? Read the FAQs, ask a friend, ask on our FB page, and, as a very last resort, drop a
♪

note to t BelmontPorchfest@gmail.com

This program is supported in part by a grant from the Belmont Cultural Council, a local agency which is supported by the Mass Cultural Council, a state agency.

Also by Anne Mahon, Protobi, and the UU
[[website by porchfest.info]]