3rd Annual
Belmont Porchfest
September 12, 2020
(rain date Sept 13th)
| | |
| --- | --- |
| Precincts 1,6, and 7: | 10:30-12:30 |
| Precincts 2 and 8: | 12:30-2:30 |
| Precincts 3,4, and 5: | 2:30-4:30 |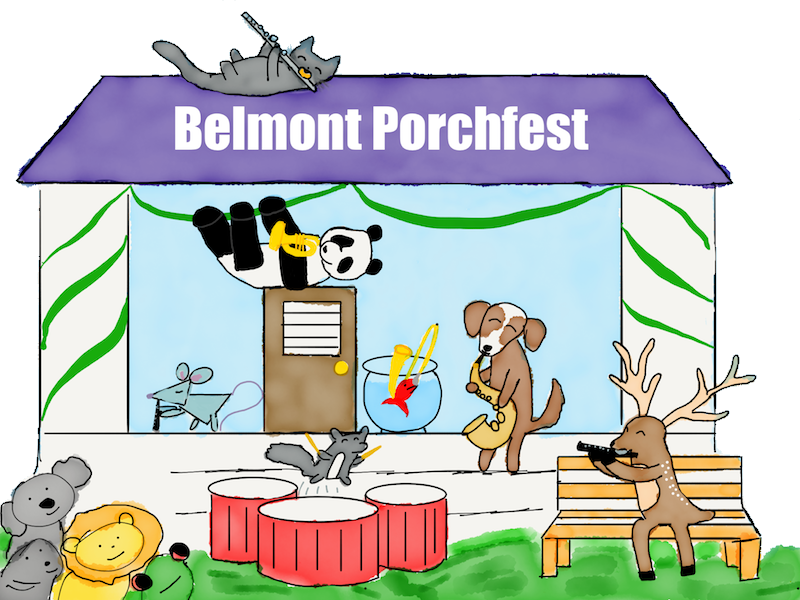 THANK YOU TO EVERYONE WHO MADE BELMONT PORCHFEST EVEN BETTER THIS YEAR - including you, Dorian! Good girl!
We'll keep the website up. Revisit performer websites on the map & band page and check out our sponsors and donors on their page.
We couldn't do this without all of you!
Belmont's Porchfest is a celebration of community through music and arts performed by your friends and neighbors in yards, porches, and parks throughout Belmont. Bike to a friend's house to hear a Klezmer band or host a circus show on your front lawn.
Last year, a total of 75 groups (including 128 students) performed throughout Belmont at 60 homes and venues to approximately 2500 audience members. 60% of audience travel was by foot or bicycle.
Belmont Media Center captured many of the 2018 performances:



This year the design will be very similar. Performances will cycle through town "zones" in 2-hour blocks, culminating at PQ park for the grand finale.

The magic of Porchfest is in the air. Friends and neighbors are connecting and innovating to celebrate Belmont's unique culture.

Belmont Media Center and Belmont Cultural Council have joined forces and resources to film a documentary.

Anne Lougee and Roger Colton have secured MassBike to provide valet bike parking at the grand finale - giving you another reason to ride your bike.

Stone Hearth Pizza have invented a vegan "Porchfest Pie" to complement the popular cheese pizza to be served at the grand finale! And who's not surprised to learn that Anne Mahon was the first in line to donate cash. We know there is more magic to happen between now and September. We invite your ideas and energy to this Music-Art-Community- Business- Sustainability-Passion-Art conga line! All we need are Belmontians to be themselves and participate!
Although Porchfest is free, there are costs associated with making it safe, fun and comfortable. Please consider donating:
Thank you for donating time, talent and/ or money to Belmont Porchfest. Many employers match volunteer and cash donations - see if yours does here:
Questions? Drop us a
♪
at BelmontPorchfest@gmail.com
This program is supported in part by a grant from the Belmont Cultural Council,
a local agency which is supported by the Mass Cultural Council, A state agency.
[[website by porchfest.info]]