FREE Music and Arts Event
Belmont Porchfest
Saturday September 10, 12-6pm
(rain date: Sunday Sep 11)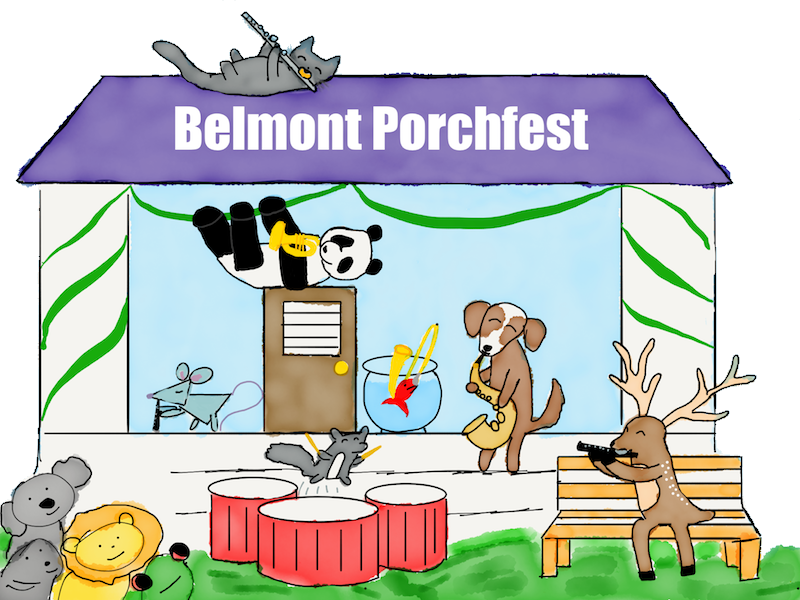 Belmont's Porchfest is a celebration of community through music and arts performed by your friends and neighbors in yards, porches, and parks throughout Belmont. Bike to a friend's house to hear a Klezmer band or host a circus show on your front lawn.
OH, THE THINGS WE WILL DO IN 2022!!
Belmont Porchfest is a volunteer run 501c3 and needs financial support to continue. To learn more about how you can be on a sponsor-only sign in front of EVERY PORCH, on our fabric shopping bags, listed on THIS PAGE and our sponsor page, and given a shout out on FACEBOOK, send an email to BelmontPorchfest@gmail.com. We have a printing deadline so contact us soon!
Donations are always accepted, gratefully.
Registration for Performers and Hosts will be available on this website July 1st - July 31st, 2022

To see last year's performers and schedule and sponsors, click on the links above

****** Pro Tip: Underlined performer names indicate a link to their music *****


Although Porchfest is free, there are costs associated
with making it safe, fun and comfortable.
Please consider donating:


Questions? Drop us a
♪

at BelmontPorchfest@gmail.com
This program is supported in part by a grant from the Belmont Cultural Council,
a local agency which is supported by the Mass Cultural Council, A state agency.
[[website by porchfest.info]]