FREE Music and Arts Event
Belmont Porchfest
Saturday September 11, 12-6pm
(rain date: Sunday Sep 12)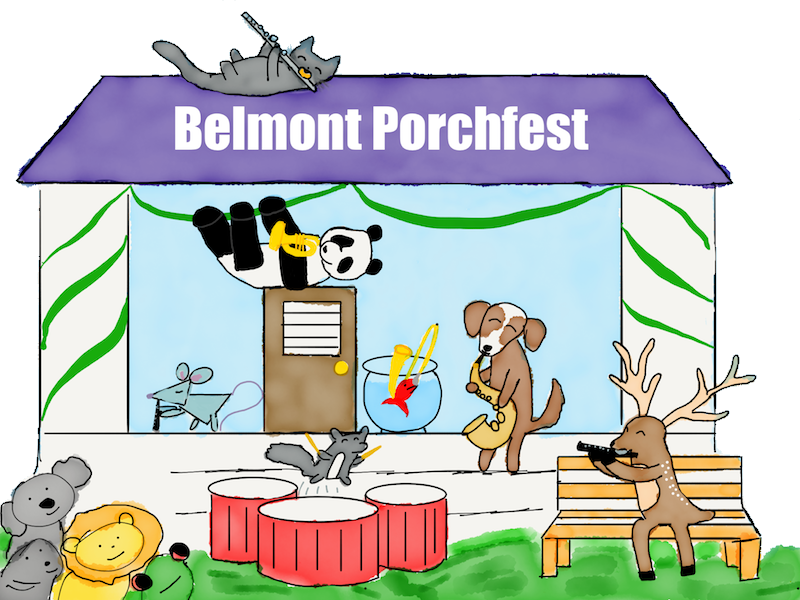 Belmont's Porchfest is a celebration of community through music and arts performed by your friends and neighbors in yards, porches, and parks throughout Belmont. Bike to a friend's house to hear a Klezmer band or host a circus show on your front lawn.
OH, THE THINGS WE WILL DO IN 2022!!
Are you ready for Porchfest on September 10, 2022? We need YOU on our planning team today!
Sponsors are already asking how to get on our signs and tee shirts!

For information about joining the planning committee or sponsoring Belmont Porchfest email us today!
Registration for Performers and Porch Hosts will be available on this website from July 1st - July 31st.



To see last year's performers and schedule and sponsors, click on the links above

****** Pro Tip: Underlined performer names indicate a link to their music *****






Although Porchfest is free, there are costs associated
with making it safe, fun and comfortable.
Please consider donating:


Questions? Drop us a
♪

at BelmontPorchfest@gmail.com
This program is supported in part by a grant from the Belmont Cultural Council,
a local agency which is supported by the Mass Cultural Council, A state agency.
[[website by porchfest.info]]