3rd Annual
Belmont Porchfest
September 12, 2020
(rain date Sept 13th)
| | |
| --- | --- |
| Precincts 3, 4, and 5: | 12pm-3:30pm |
| Precincts 1, 6, and 7: | 1pm-4:30pm |
| Precincts 2 and 8: | 2pm-6:30pm |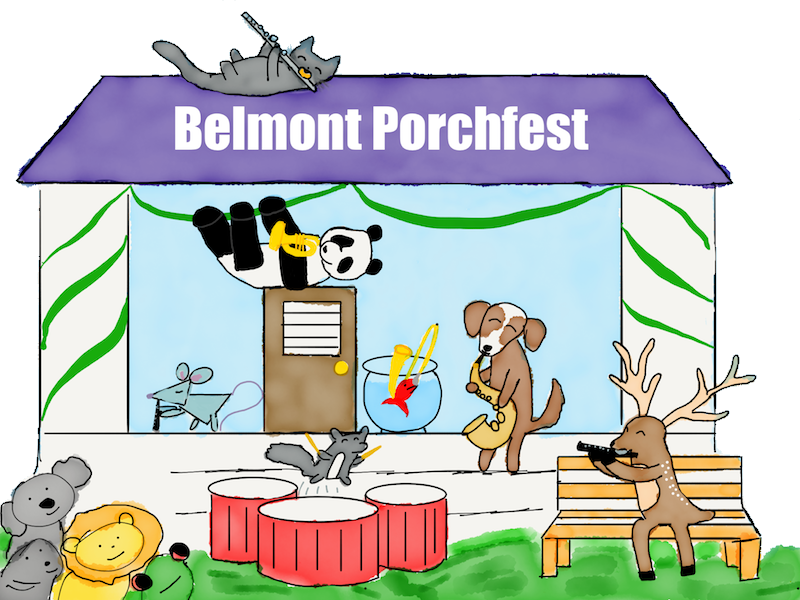 Belmont's Porchfest is a celebration of community through music and arts performed by your friends and neighbors in yards, porches, and parks throughout Belmont. Bike to a friend's house to hear a Klezmer band or host a circus show on your front lawn.
March 31, 2020
Hello Friends,
Belmont Porchfest 2019 was an overwhelming success! There were 91 BANDS on 86 PORCHES. 127 of the 515 performers were UNDER 18! There were a total of 1170 SPECTATORS, averaging 34 per porch. And 377 of you joined together at the grand finale! Once again we proved that Belmont knows how to party!!
We are currently on pause but we will be back when the time is right. We cannot wait to celebrate the talents and connectivity of our community with all you wonderful people!
Meahwhile, here are YOUR VOICES from last year's post event survey.
Q13 What did you like about Belmont Porchfest?
Answered: 51 Skipped: 8
It's a chance to play music in your own neighborhood. It was a chance to meet neighbors we otherwise wouldn't meet.
Fun day for the community
Great talent and casual community vibe
It's a great and informal social gathering.
Getting to know others, the music!!
Awesome hosts, big crowd
opportunity to perform for a different group of people
It was well-run and a pleasure to interact with all involved.
The perpetual smiles
Music and neighbors out and about
Feeling of community.
People coming together to celebrate music and all positive things.
community, music, and accessibility
The chance to perform for and interact with the audience.
porch host was very accomadating
great sense of community
I enjoy having a venue to play music and a chance to further connect to the neighborhood.
Our location was nice and quiet, yet a good number of people came by to watch our showcase. It was a very organized event!
I like how it connects neighbors and allows artists a platform to perform.
Large enough homes with sizable porches, ideal for surrogate stages
Donna our hostess was great!
Mary kept everyone posted through all sorts of craziness, including unpredictable weather. And she connected us with our hosts in advance, so that we were able to meet and figure out where to set up, etc. In two words: good communications.
Great communication from organizers; strong advertising of event; support from volunteers.
The opportunity to play my original music for people who normally wouldn't hear it as well as the overall concept of bringing the community together
playing music
Community
Music in the air everywhere you went!
Exposure to music I wouldn't necessarily seek out on my own; meeting neighbors; the energy!
Neighborly conversations with new and old acquaintances
The crowds
The way it brought people with different background together and created an atmosphere for people to experience different talents.
The variety of music, people willing to share their talents and perform, the sheer number of people who were interested, I saw so many people walking and biking around town. People participated in this that I've never seen at any other town-wide event. Also speaks volumes about Belmont's commitment to the arts, music in particular, and community.
The opportunity to meet new people and see neighbors while listening to great music.
Well run and good turnout.
How many neat people showed up from infants to elderly. Even folks in wheelchairs.
Unbelievable Ethnic variety. It was beautiful.
Great performing opportunity, great exposure to local talent, great non-sports community event
Good musicians & meeting neighbors!
Everyone was friendly. All ages included. Great event to bring town's people together.
It was great to meet the neighbors. We had a fun afternoon.
Excellent performers and easy online map
The variety of performers and the enthusiasm seen in spectators, hosts and performers.
Vibes, music, neighbors
great community event. great opportunity for our group to perform in public.
Great atmosphere!
Music wafting through the Saturday air :)
The finale. Bring it back to grove st. My parents couldn't park at pq
bring people together in one event
I like how lively the neighborhood becomes. The gathering of neighbors that you never see otherwise. The festive atmosphere
Sense of community
Much love! Until we see you again, we hope that
whether your a brother or whether your a mother or otherwise identified, you're staying inside!
Belmont Media Center captured many of the 2018 performances:

Although Porchfest is free, there are costs associated with making it safe, fun and comfortable. Please consider donating:

Thank you for donating time, talent and/ or money to Belmont Porchfest. Many employers match volunteer and cash donations - see if yours does here:




Questions? Drop us a
♪
at BelmontPorchfest@gmail.com
This program is supported in part by a grant from the Belmont Cultural Council,
a local agency which is supported by the Mass Cultural Council, A state agency.
[[website by porchfest.info]]