3rd Annual
Belmont Porchfest
September 12, 2020 POSTPONED!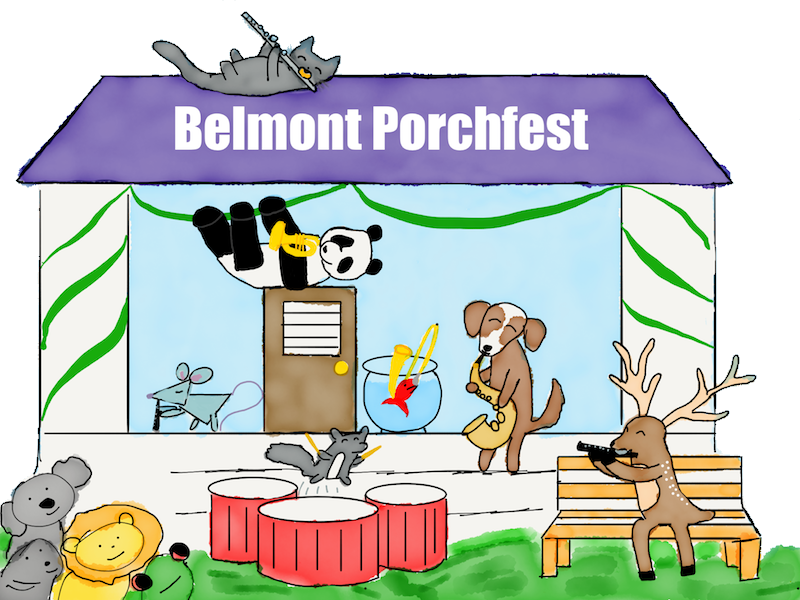 Belmont's Porchfest is a celebration of community through music and arts performed by your friends and neighbors in yards, porches, and parks throughout Belmont. Bike to a friend's house to hear a Klezmer band or host a circus show on your front lawn.
Plans are underway to open registration in July for our September 11, 2021 event. Be ready to sign up to host, perform, or both.
We cannot wait to celebrate the talents and connectivity of our community with all you wonderful people!
2019 Stats:
91 bands performed on a total of 86 porches.
515 people performed.
127 of the performers were under the age of 18
1170 spectators, averaging 34 per porch, enjoyed the day.
377 people attended the grand finale.
Belmont Media Center captured many of the 2018 performances:

Although Porchfest is free, there are costs associated with making it safe, fun and comfortable. Please consider donating:

Thank you for donating time, talent and/ or money to Belmont Porchfest.
Questions? Drop us a
♪
at BelmontPorchfest@gmail.com
This program is supported in part by a grant from the Belmont Cultural Council,
a local agency which is supported by the Mass Cultural Council, A state agency.
[[website by porchfest.info]]