FREE Music and Arts Event
Belmont Porchfest
Saturday September 11, 12-6pm
(rain date: Sunday Sep 12)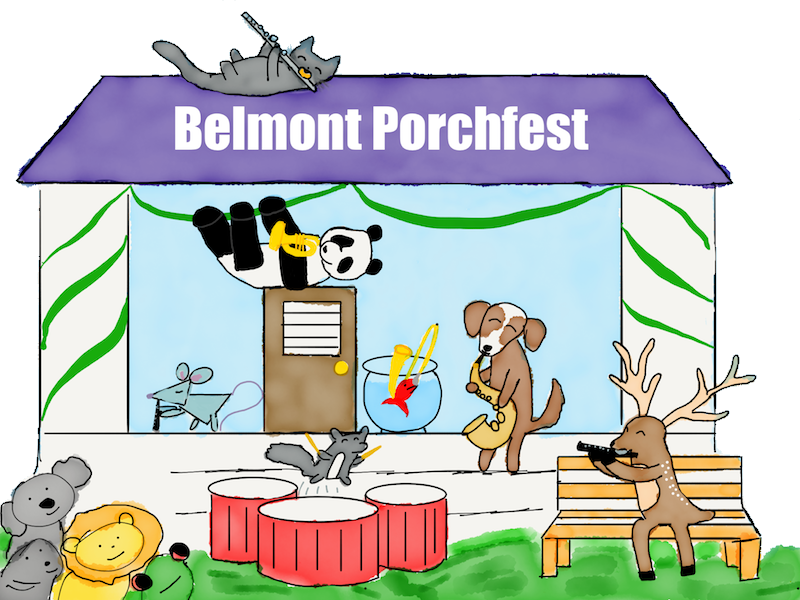 REGISTRATION OPEN UNTIL AUGUST 1st
Belmont's Porchfest is a celebration of community through music and arts performed by your friends and neighbors in yards, porches, and parks throughout Belmont. Bike to a friend's house to hear a Klezmer band or host a circus show on your front lawn.
We are thrilled to be able to create this event with absolutely no COVID-19 restrictions, however, check back here or on our
FACEBOOK page
in the event we need to make any modifications. Porch Hosts and Performers will be directly contacted if there are any changes.
This year we will have the music playing throughout Belmont simultaneously for 6 hours. Each porch and performance will be limited to a maximum of 2 hours.
Don't play an instrument? No problem, you can register your porch and we'll find you a band or performance. Don't have a porch? Again, no problem, we'll find you a porch. Just read the FAQs and if you meet the requirements, fill out the registration form. In mid-August we'll create the schedule, send it to the performers and hosts and then post it here with a map.
We will be hosting 2 more zoom events to answer questions in July. If you would like attend one of these events, send BelmontPorchfest@gmail.com an email requesting to be put on our invitation list.
People interested in volunteering can email BelmontPorchfest@gmail.com.
Although Porchfest is free, there are costs associated
with making it safe, fun and comfortable.
Please consider donating:


Questions? Drop us a
♪

at BelmontPorchfest@gmail.com
This program is supported in part by a grant from the Belmont Cultural Council,
a local agency which is supported by the Mass Cultural Council, A state agency.
[[website by porchfest.info]]