2nd Annual
Belmont Porchfest
September 7, 2019
(rain date Sept 8th)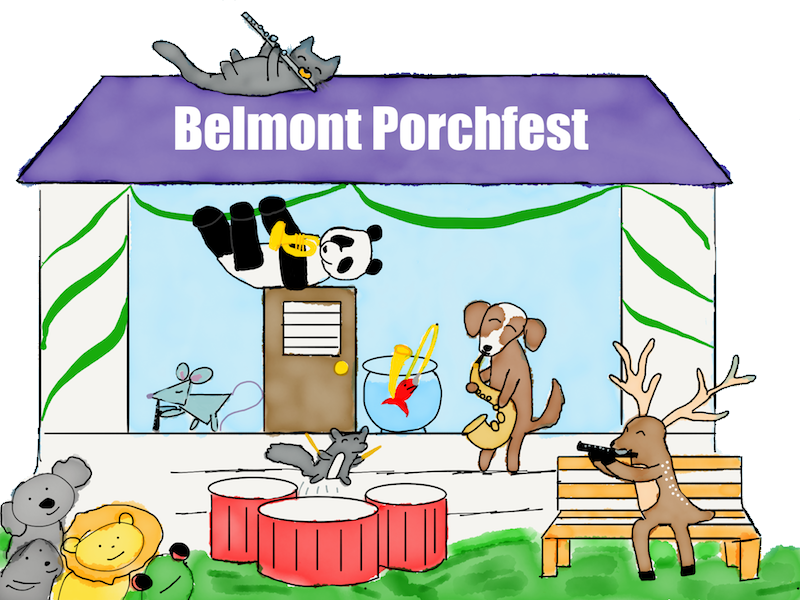 Porch Registration
Welcome to Belmont's Inaugural Porchfest. As someone once said, "All the world's a stage" – including your porch, lawn or even driveway!
By registering your space, you help us design the set AND the playbill for Porchfest. The goal is to choregraph the venues thoughtfully and to generate a mapped schedule on our website for spectators. The map will link information about performers, their performance times, and the porch addresses.
Here are general "Host" requirements, though please also see our FAQ page
Designated area without access to pool or other water source on your private property that can accommodate performers and guests. Porches are great, but any ground level outdoor space (without access to pool or other water source) will work
Property owners need to acknowledge the waiver and complete the registration.
Porches and other spaces must be on the ground level.
Communicate with your performers and our porch liaisons in advance to discuss logistics, needs, and timing.
Display a "Belmont Porchfest" sign on your front lawn in advance of the day
This is an all-ages, alcohol-free event. Your help is appreciated in keeping the event viable and safe for everyone.
As a Porch Host, you can register with performers in mind (including yourself), or you can have performers assigned to you (or a bit of both). Porchfest organizers will do their best to match requests and create a diverse array of entertainment in the community.
For More information, check out Porch Host FAQ.
REGISTER HERE – PORCH HOST REGISTRATION CLOSES 7/15/2018
Signups are now closed