1st Annual
Belmont Porchfest
September 8, 2018
(rain date Sept 9th)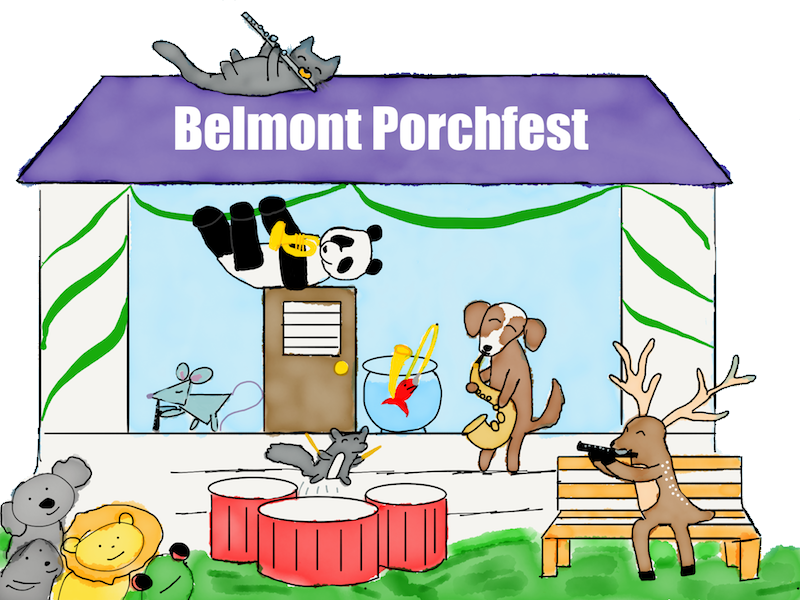 Performer FAQ
What is Porchfest?

Belmont Porchfest is a celebration of community through music and arts performed by your friends and neighbors (and maybe even you!) on porches throughout Belmont. Walk to a neighbor's house to hear a Klezmer band or host a circus show on your front lawn.

Where in Belmont will this take place?

Music and art performances will roll through different precincts of Belmont in 2-hour increments, covering, over the course of 6 hours, the whole of Belmont. The goal of 2-hour clusters is to incentivize foot traffic and the resultant positive community interactions within neighborhoods while limiting any potential discomfort any individual may experience in one particular area.

What kind of groups can perform?

Any and all groups are welcome! Singer/Songwriters, Bands, Dancers, Drama Acts, Circus Acts, Comedians, Painters and more. Just keep in mind that your audience may have toddlers to grandmas ;-)

Do I need to be from Belmont to perform?

For the inaugural year, at least one performer in your group should have an affiliation with Belmont. If no one in your band is affiliated with Belmont, but you want to participate in future years, please come to our village and see what it's all about.

Will I be paid?

Porchfest is free! Performers donate their time. Hosts donate their space. Businesses and friends and neighbors donate their money and volunteers donate their time (and space and money).

Can Performers sell CDs or other merchandise?

Sales are not permitted, but performer merchandise can be made available with a suggested donation or with the porch coordinator's permission.

How long should I play for?

Sign up to play for one 30, 60, 90 or 120-minute time slot. Factor in the time you will need for set up and breakdown. If you need a lot of time for set up and breakdown, please let us know on the registration form.

How loud can I play?

Performances can be acoustic or amplified, but we ask that you be cognizant of your surroundings. The goal is to be heard to the sidewalk, but not down the street. There will be other performers nearby, (and a few sleeping babies!), so please be respectful.

Should I bring my own water or other refreshments?

Yes.

Should I bring my own equipment?

Absolutely! Organizers and porch coordinators will not provide equipment. Porch coordinators may provide electrical outlets. You'll need to talk logistics with porch coordinators before the performance date. The organizers will be sure to put you in touch!

Will I be performing on a porch?

Possibly. Any outdoor, ground level, residential space (without access to a pool) could be your playing field, including a porch, patio, stoop, lawn or garage.

How will I know where I'm performing?

Once sign-up is complete, we'll be contacting you to let you know where you'll be performing and connect you with the porch coordinator so logistics for the day can be worked out directly with them.

Who will advertise my performance?

Providing links to your web or FB page will help us get the word out. We'll request porch coordinators promote performances to neighbors, friends, and coworkers. You should do the same. Anything you can do to promote your performance is recommended!

What about parking?

Parking may be difficult, depending on the porch location. Arrive early and be prepared to walk. You can drop equipment, but depending on where the porch is located, you may need to park elsewhere.

I have other questions, who do I contact?

Please email us at BelmontPorchfest@gmail.com.